Four pilots, one main goal
Project implementation involves testing the validity of the IPS Holistic Framework in real environment. Four pilot cases from Austria, Croatia, Greece, and Malta will be the test bed for the Framework with services that represent a different potential interpretation of the IPS Holistic Framework.
Creating an AI-driven mobile virtual assistant and a common public services platform for the citizens of the City of Bjelovar
Virtual assistants will provide universal access to all local services, i.e. 32,000 adult inhabitants
government as a platform
government as a service
inclusive, better (and ethical) public service
mobile communication with apps
guidance for co-creation
digital-by-default principle
user centricity
sustainability business plan
trustworthy AI
process management
web accessibility directive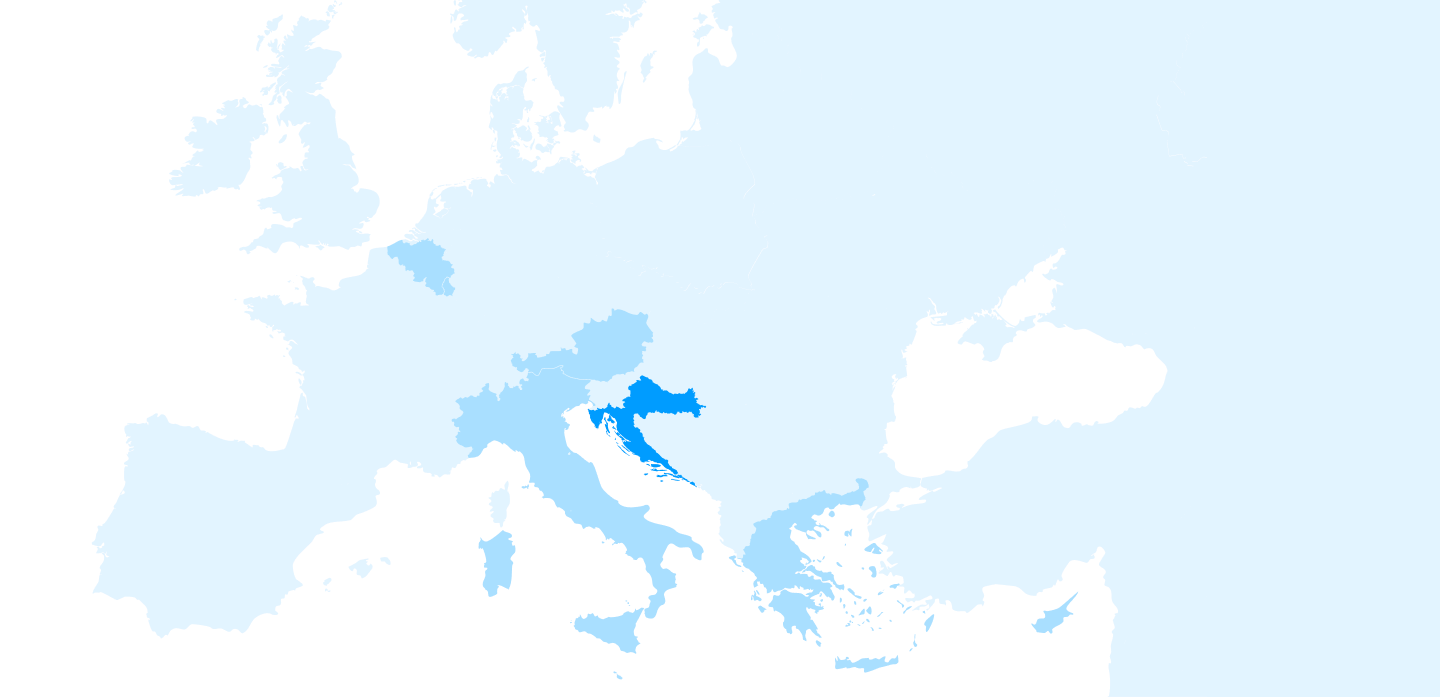 City of Bjelovar
Croatia
Use case problem statement
The City of Bjelovar is a digital champion in Croatia, offering a range of communal services to its citizens, ranging from social services and getting approvals for benefits payments, to the ability to see every payment from the city budget to any other party. However, while citizens are aware of these services, they are not used as frequently as the city administration hoped. Most citizens using those services are younger population, well-educated and, in general, more affluent. Older population considers those services as excellent means of being able to track budget spending, apply for financial help, public works, and more – but they point out that those services are incoherent and not accessible to them. A significant proportion of them points out that they would like to have a uniform way of approaching those services, ideally through their mobile phones. When inquired about the preferred ways for interacting with those services, they often mention statements like these: "Something like WhatsApp so I can just send it a message", "It would be good if I could just type what I need and go to the right service", "The websites are sometimes complex, and I get lost. And I forget where I was the step before."
While they are not technically aware of the terms chatbots, virtual assistants, and artificial intelligence, it is apparent that they want to use existing and future services in a way that is more inclusive for them and powered by those technologies. In addition, people who try interacting with the existing services in their current form often end up looking for or calling help (desk) service. Proper implementation of smart and intelligent assistants can cut those incidents by 60% (an industry benchmark) to up to 80% (in exemplary deployments). The Australian Tax Office (ATO) made such implementation and achieved an 80% first contact resolution. This directly translates in more time available for actual human agents for solving more complex or currently unsupported inquiries. This pilot aims to envision, design, and deliver a universal virtual assistant for public services of the City of Bjelovar that would serve as a platform for existing services but also a framework on top of which all future services would be developed and integrated. This pilot will result in the mobile app developed to interact with existing disparate services and encompassing them in a uniform, simple, accessible, and enjoyable to use experience. The pilot will also result in the co-creation of roadmaps for future services, as well as guidelines and governance models for them. We recognise the complexity of this endeavour, which would require multiple city agencies and departments to collaborate closely, but we already gauged their interest and enthusiasm. The Mayor of the City of Bjelovar himself will be a stakeholder in this process. The pilot will use, test and contribute to inGov IPS co-creation efforts (roadmaps, guidelines, and governance models).
Use Case Definition & Design
Public Service Consumers (Beneficiaries): General population, 32,000 citizens, of the City of Bjelovar, in particular those with lower levels of computer literacy, lack of access to laptops and computers, but with access to mobile phones. AS-IS: The City of Bjelovar digitally offers a number of PS in addition to those provided on a national level (e-Građani). These include participatory budgeting, e-forms, issues reporting etc. The city has identified 114 processes and digitized 88. All those services, although useful, are disconnected and face usability and accessibility challenges, especially regarding their discoverability and citizens' limited awareness. Some public services already exist, and there are active discussions and ideation for development and addition of future services. However, they are disparate, require relatively advanced computer literacy skills and shaped in a way that is not inclusive towards the people of lower educational levels, people with accessibility issues and especially older population (which in many cases include people with lower education and accessibility/disability challenges). When they are trying to interact with existing services, each with different interface and requirements, they often give up, ask for help from their relatives and friends or reach out to official helpdesk. This presents an additional friction factor in the delivery of public services and hampers the level of inclusion and usage of those services.
City of Bjelovar
TO-BE (Co-created Integrated PS description)
In order to address this problem, the pilot will reuse inGov co-creation platform and IPS governance models to co-create a micro app based on geo-information. The micro-app could therefore: be used independently of location and of the type of device used; increase safety; be simple and understandable to use; be adapted to the Regional Government's workflow; be agile and adaptable; provide machine-readable data (derived from application form, e.g. location of accommodation, date of application, type of tax, etc.) in real time.
With the integrated web-based solution, the citizen continues to pay the tourist tax together with the hotel fee, but subsequently the accommodation provider will use the micro-app to fill out the necessary form. The geo-location functionality will automatically pre-fill part of this form with relevant information, such as the name of the local council that will collect the tax, location of accommodation, date of application, type of tax, etc., so that the accommodation provider will have less information to enter. Furthermore, the data will be transferred in a structured format to a database instead of being sent via Excel forms that is re-entered manually. In addition, the data can then be also forwarded to other stakeholders such as the Lower Austrian Tourism Authority.
Stakeholders of IPS co-creation: (a) businesses (the hotel/accommodation providers), (b) the local council, (c) the Regional Government of Lower Austria (in particular, the Department WST3), (d) the Lower Austrian Tourism authority and (e) six regional tourism authorities.
Data sets to be used: The data to be used stems from the use of micro-app e.g. location of accommodation, date of application, type of tax, etc. Currently, there are no relevant registries that can be used to streamline this service. Existing models: In this pilot, the following inGov results will be utilised: the inGov IPS co-creation models along the inGov IPS co-creation governance models (roadmap, organisational models, guidelines).
Possible Obstacles: (a) Resistance to change, (b) lack of feedback and co-creation (design, development) engagement. Reusability: The results of the pilot can be reused for the development of similar web-based micro-apps exploiting.
The pilot is envisioned to be highly reusable by every city and local (municipal) administration in Croatia. As of 2020 there are well over 500 cities/municipal entities. The shared roadmaps, guidelines and governance models will ease the process and make implementations on local levels more cost-effective. The City of Bjelovar will champion the pilot, and through the relationships built on the mayoral level, it is feasible to see other cities following the example. RIDE Technologies will particularly support the Croatian (Bjelovar) pilot.
Solutions to be explored/developed in the project: The following solutions will be explored/developed: Mobile apps for IPS co-delivery; Virtual assistant technology powered by the AI and utilising the NLP; Customised co-creation roadmaps based on inGov co-creation roadmap; Customised co-creation governance model based on inGov co-creation governance model
Accessible Mobile technologies necessity: Used by the majority of people (almost 70% smartphone penetration in Croatia, and 103% global mobile phone penetration in the country), mobile phones provide a perfect channel for delivery of co-created public services and the interaction with them. They are well-liked and accessible and present an opportunity for the increase of the value of public services. Additionally, the implementation of the Web Accessibility Directive will be supported by enhanced cooperation on digital accessibility between various stakeholders. This will result in scalable and more affordable accessibility solutions, as well as empowering all citizens in an inclusive way.
IPS co-creation governance necessity: Through the co-creation process the value for all stakeholders will be maximised. Additionally, transparency and trust to government will be promoted. Moreover, through the engagement of citizens to the co-creation of IPS delivery, awareness about various benefit will be increased and thus beneficiaries that were not aware of them will be informed and have the chance to participate to the co-creation process.