On 15th of March 2023, Prof. Efthimios Tambouris and Alexandros Gerontas (University of Macedonia) had the opportunity to present, at ENDORSE 2023 conference, the work conducted within the H2020 inGOV project, under the title "On using CPSV-AP to publish public service descriptions as linked open data".
Public authorities worldwide provide a large number of Public Services (PS) to citizens, businesses and other authorities. In this context, they publish PS catalogues containing descriptions of these services (e.g. about cost, required documents, contact details, etc.). Two main challenges in the design of PS catalogues are standardization and interoperability. To address these challenges, the European Union (EU) has developed the Core Public Service Vocabulary (CPSV), as the proposed EU standard for PS modeling. CPSV-AP is an application profile of CPSV that uses linked data as an underpinning technology to exploit its benefits, (e.g. interlinking PS descriptions with each other and with another web of data resources). Despite its potential, however, there is only limited research on CPSV-AP use in practice.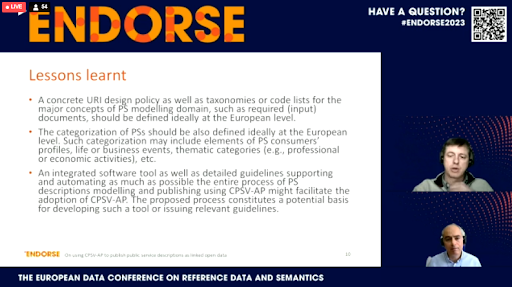 The work carried out during the implementation of the inGOV Project, was presented during the conference. This work included the design of a process for using CPSV-AP and the conduction of a pilot implementation, using this process, for the investigation of the potential benefits or challenges of CPSV-AP practical usage. More info can be found in the following article: Gerontas, A., Tambouris, E., Lazopoulou, K., Tarabanis, K. On using CPSV-AP to publish public service descriptions as linked open data. SOCA 16, 231–261 (2022). https://doi.org/10.1007/s11761-022-00344-6
The European Data Conference on Reference Data and Semantics (ENDORSE) 2023 conference was organized by the Publications Office of the European Union and Interoperable Europe and supported by Digital Europe Programme. It took place on 14-16 March 2023. For more details please visit the conference's website, at the following URL: https://op.europa.eu/en/web/endorse.